Come to an art hive in the Library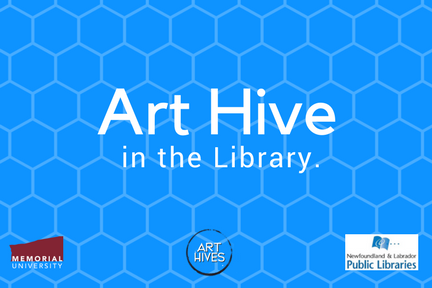 Art Hives are public spaces for people to gather and make art; to connect and engage. Libraries are places to explore ideas; to converge and learn. Join us at a library in St. John's to explore, create art, and make community connections. All ages, all genders welcome. For information on an Art Hive, please contact the Library where it will be happening:
Art Hives happening in APRIL:
Tuesday, April 3, at 11am – QEII Library, St. John's Campus, Memorial University (864-7423)
Wednesday, April 4 at 3pm – A.C. Hunter Library, Arts & Culture Centre (737-3950)
Thursday, April 5 at 11am – Marine Institute Library (Dr. C. R. Barrett Library), 155 Ridge Road (778-0662)
Tuesday, April 24 at 12pm – Health Sciences Library (864-4904)
Memorial University's Faculty of Education in collaboration with Memorial University Libraries and the Newfoundland & Labrador Public Libraries invite you to take part in the research project Libraries as Public "Home Spaces": Engaging with Multiple Literacies through Community Pop-Up Art Hives. After participating in an Art Hive a researcher will ask if you are interested in filling out a feedback survey and/or having your artwork photographed for research purposes. Participation in the art hive and the research will take no more than 2 hours. Completing the feedback survey will take approximately 15 minutes.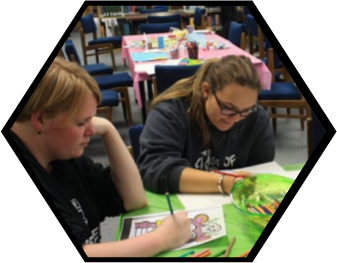 (Photo: Courtesy of Crystal Rose)
If you have any questions about the research project, please contact:
Leah B. Lewis, Faculty of Education, Memorial University. Email: leah.lewis@mun.ca, phone: 864-7617, or
Beth Maddigan, Education Library, Memorial University. Email: beth.maddigan@mun.ca, phone: 864-2188.
The proposal for this research has been reviewed by the Interdisciplinary Committee on Ethics in Human Research and found to be in compliance with Memorial University's ethics policy. If you have ethical concerns about the research (such as the way you have been treated or your rights as a participant), you may contact the Chairperson of the ICEHR at icehr@mun.ca or by telephone at 709-864-2861.