COVID-19 Update - Level 2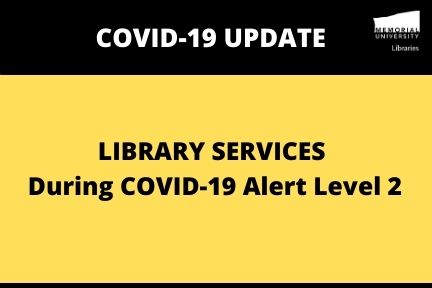 Library Services While We Teach Remotely
(last updated March 25, 2021)
Memorial University is mainly teaching remotely for the Winter 2021 semester,. Since the closure of Memorial University Libraries in March 2020, library employees have been working remotely and on-site to ensure the continuity of services, as well enhancing digital collections and virtually supporting research, e-learning and remote course delivery. Please visit Memorial University's COVID-19 Information Hub for official updates.
UPDATE: How does the provincial public health declaration of a level 2 COVID alert level affect library services?
Contact-less pickup is available for all library users.
A limited number of bookable, individual on-campus study spaces are available in the following locations: Queen Elizabeth II Library, Grenfell Campus, Health Sciences Library, Education Library, and Marine Institute.
The grad student study space in the Rotunda is available and has computer access. Requests for access must be made 24 hours in advance.
In-person appointments for materials in the Archives and Special Collections and the Centre for Newfoundland Studies are available for current Memorial University faculty, staff, graduate undergraduate and honours students.
Non-medical face masks, minimum 2-ply, must be worn at all times. Please complete the daily COVID-19 self-assessment within 24 hours of visiting campus and follow posted instructions and health and safety guidelines.
Our online chat, email, e-reserves, remote instruction, document delivery, copyright support, and purchasing services are still available. We have an extensive collection of online resources, such as databases, ebooks, e-journals, streaming film collections, to support teaching, learning, and research.
Archives and Special Collections and the Centre for Newfoundland Studies
Under alert level 2, we are able to offer in-person appointments for Memorial University faculty, staff, graduate undergraduate and honours students. We may also be able to make materials available digitally. For assistance, please contact us via email:
Centre for Newfoundland Studies
Archives and Special Collections
Founders' Archive