COVID-19 Update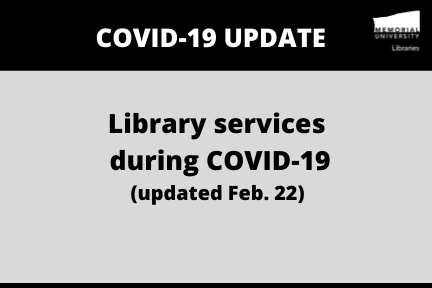 Feb. 22, 2022
Please ensure you check our website for specific branch hours, services, and important health and safety measures.
All visitors to the QEII Library who aren't current Memorial faculty, students, or staff, are required to check in with the Campus Enforcement Officer and show their vaccine passport.
All students, faculty, staff and visitors to Memorial's campuses are required to wear masks indoors, in public spaces and common areas. A three-ply non-medical face mask is the minimum standard. More information about is available on Memorial's COVID-19 website.
Please complete the daily COVID-19 self-assessment within 24 hours of visiting campus and follow posted instructions and health and safety guidelines.
No food or drink is currently allowed in any library. The Jumping Bean Cafe is at a 50 per cent reduced capacity. A VaxPass will be required to eat in and no food or drink can be consumed in the library.
Our online chat, email, e-reserves, remote instruction, document delivery, copyright support, and purchasing services are also available. We have an extensive collection of online resources, such as databases, ebooks, e-journals, streaming film collections, to support teaching, learning, and research.
The Archives and Special Collections Division is offering in-person appointments. Please email (archives@mun.ca) to make an appointment. The Centre for Newfoundland Studies is open from Monday to Friday from 9am-4:00pm. Please email in-depth NL research questions to cnsqeii@mun.ca in advance of visit.
Visit Memorial University's COVID-19 Information Hub for official updates.