Top 10 Library things to know for Fall 2020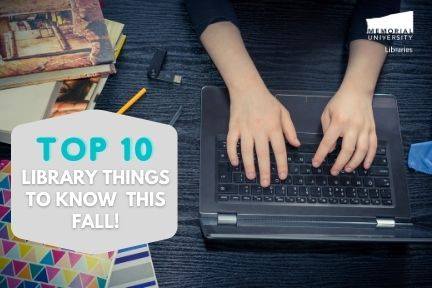 1. Book pick up and drop off:
Where do I pick up my books:
Contactless Pick-up is now available. Print books and other circulating materials that aren't available online are accessible through our contact-less pickup service!
How do I return my books:
You can bring them to:
Book return bins located at the following locations:
QEII Library main entrance
Grenfell Campus Library & Computing Building main entrance
Marine Institute main entrance
MUN Med main entrance
Door 6 of the G.A. Hickman Building (entrance facing the QEII)
Door 5 of the School of Music
any branch of Newfoundland and Labrador Public Libraries that are open for curbside pickup. Our friends at the public library will ensure we get the material back.
If you are outside the province, please keep your items for now, if possible. We are currently working on ways for you to be able to get those items back to us. If you need to make arrangements to return materials immediately, please contact us. Please be assured that absolutely no late fines will be charged to any library users.
If you are not returning your materials, you will need to renew your items online:
Sign in to OneSearch and view your account information by clicking on your name and selecting items to renew. If you are unable to renew or receive a notice that you need to return items, please don't panic. We understand that given the current context, there may be some challenges returning your materials. Contact us if you need to make alternate arrangements.
2. Ask a Librarian:
Get personalized research help and one-on-one reference support from our expert librarians through our online chat service.
You can also email us a question, call any of our Branches, or book an appointment.
3. E-Reserves:
Having trouble finding your e-reserves for your courses. We have created a guide to help you. And if you are faculty, you can find information there, too.
4. Request a book or article:
Document delivery has resumed for articles and book chapters. However, most libraries are not sending physical items, as mailing times remain longer than normal. If there is a book you need that isn't in our collection, you can contact your branch to request a purchase of an eBook or print book.
5. Archives and Special Collections and the Centre for Newfoundland Studies:
Did you know there is Limited, controlled and scheduled access (in-person appointments) to Archives and Special Collections, the Centre for Newfoundland Studies, and Founders' Archive to Memorial's faculty, graduate students, undergraduate honours students, and postdoctoral fellows. Please visit their special FAQ for more information.
6. How to get started on your course assignments:
We have an extensive collection of online resources. You can:
Use OneSearch to find and use scholarly online resources.
Pick a topic from our research databases page and use a database to find resources. Some databases include full text and/or the Get It @Memorial link, a shortcut to OneSearch. Databases tell you what's published on a topic (MUN doesn't own it all). OneSearch tells you what MUN has access to. But databases often give you more information about resources than OneSearch can.
Get help through our online chat service.
Also check out the Library Research Essentials (LRE) tutorial in Brightspace. You can self-enroll in the LRE and refer to it whenever and however you need. (You're not required to do it just because you add it to your course list.)
Access e-reserves for course materials your professor put on reserve.
7. A Librarian can visit your virtual classroom:
Our Librarians can deliver information literacy instruction services remotely. Contact us by emailing an instruction librarian at your branch, or by completing our online Information Literacy Instruction Request Form. You can also try our Library Research Essentials tutorial available via Brightspace.
8. Online software tutouring and access:
Did you know all students can currently avail of one-on-one tutoring in software applications including Microsoft Office and the Adobe Creative Cloud suite. Visit the Commons for more information. Group workshops covering software and technologies available at the Commons including 3D CAD with Fusion360 and game development using the Unity platform.
9. The Digital Archive Initiative (DAI):
Browse our Digital Archives Initiative (DAI) for photographs, audio recordings, video, periodicals, books, and other cultural resources held by Memorial University and partnering organizations. There are almost 2 million items in the archive.
10. Where to go for information:
For the most up-to-date information regarding remote services and collections, please keep checking back.