Turabian Style
In 1937, Kate L. Turabian wrote a book based on the The Chicago Manual of Style guidelines. The guidelines in her A Manual for Writers of Research Papers, Theses, and Dissertations, are commonly referred to as "Turabian Style."
If your instructor requires you to use Chicago Style please see our separate guide as there are significant differences between the two styles.
Turabian Style 9th Edition
The 9th edition of the Turabian Manual is updated to reflect the changes in the 17th edition of The Chicago Manual of Style. Within Turabian Style, there are 2 different citation style options. You may use the notes-bibliography style (which uses footnotes or endnotes), or the author-date references style. If you are not sure which of these styles to use for your paper, please consult your instructor.
Download a PDF version of our Turabian Notes-Bibliography Quick Guide or our Turabian Author-Date Quick Guide.
Notes-Bibliography Quick Guide
‌

MUN Libraries
Notes-Bibliography Quick Guide
Author-Date Quick Guide
‌

MUN Libraries
Author-Date Quick Guide
Turabian Manual 9th ed. (2018)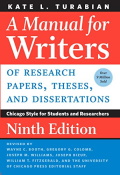 ‌‌‌
Available at the
library: LB 2369 T8 2018