Where'd my stuff go? Using OneSearch
OneSearch has arrived! This means you'll discover a number of changes. The information below will help you find what you need to do your research and highlight new features. If you need further help, check out our OneSearch videos or ask us your questions.
Do I still need my library PIN?
You no longer need a library PIN. You now use your MUN login ID (my.mun account) to access library resources.
What's my MUN login password?
Here's a hint: it's usually what you use to login to D2L. If you are unsure, go to the my.mun (MUN login) page and click on "Having Problems". You can than choose either "Forgot my MUN Login ID" and/or "Forgot my password".
Still having trouble? Please contact the library and we will happily assist you!
Why do I have to sign in to OneSearch?
You can sign in to OneSearch with your my.mun account (MUN login ID) in the top right hand corner of the screen.

‌
Signing in will:
let you access online resources
show the loan period for items (ie. 2 weeks, 4 months)
provide access to library services like Document Delivery or Request an item from another library
Signing in will also let you access your account information. You can:
view items checked out
renew items
access saved searches and saved items
I used to search Summon, what do I use now?
You can use OneSearch in a similar way to Summon. The default search, Books, articles and more, provides our biggest search.
I used to search the Catalogue, what do I use now?
You can use the dropdown box in OneSearch to limit your search to the catalogue.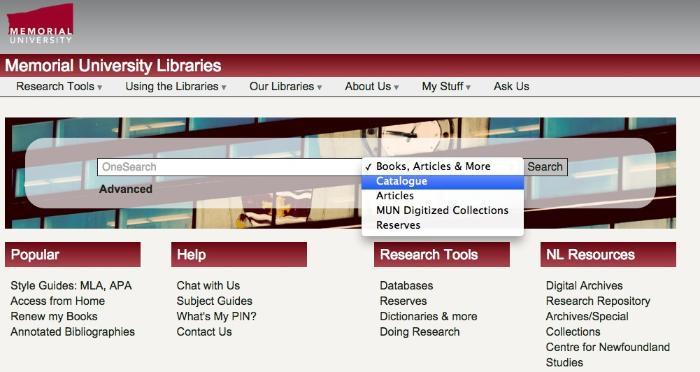 Can OneSearch find items from the Digital Archives Initiative (DAI)?
Limiting your search to MUN Digitized Collections will find items in the DAI.
How do I find reserves now?
To find reserves, choose Reserves from the dropdown box.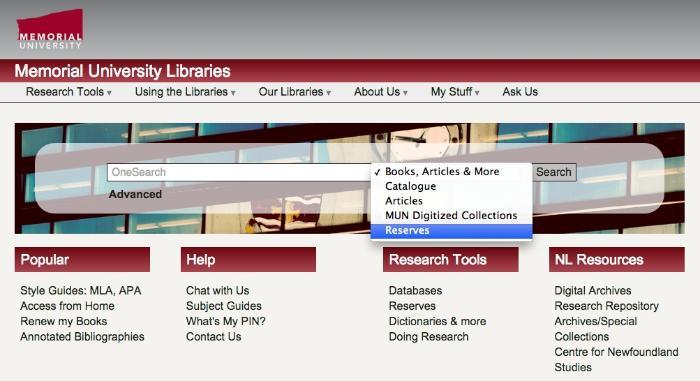 If you are in OneSearch already, you can use the Reserves tab.

There are many ways to find your reserves including:
search for the title of the item on reserve
search by your instructor's name
search by your course code (ie. ENG1000.60). Hint: If you're not sure of your section, type in your course code and add an asterick (ie. ENGL1000*)
How do I find variations of a word now?
Good news! You no longer need to use a dollar sign ($) when searching for variant endings in the catalogue. You can use an asterisk (*) to find variations in OneSearch.
What does Available in the Library mean?
At the top of your result screen, you will see a link for Available in the Library. This means that these items are physcially in the library and available for loan. If you want to see all items, including checked out items, do not limit to this setting.

How do I find things in my favourite library?
Once you have conducted your search a results page opens. You can limit your findings using facets on the left side of the screen. Choose from the options under Library or Library Location to limit to the physical holdings of the location you want. If you do not see your location listed click on "More options" to get an expanded list.
How do I find an item on the shelf now?
If you've found an item you would like to get, select Find in Library.

‌
The information in this tab tells you which library the book is located in as well as its call number. It also indicates whether the book is "in place" or checked out to another user. If the book is checked out or at another branch, you can place a request at this point.
‌
Why does it say both View Online and Find in Library?
Sometimes the library will carry both online and in print versions of an item.

‌
View Online will let you access the online copy.
Find in Library provides details on where you can find it on the shelf, including:
location information (library and call number)
the length of time you can borrow it (you must sign in to view this)
the status (available to borrow or checked out).

How do I export, email or save my records now?
If you want to export a single record, click on the Details tab. in the far right corner, you will see a link for Actions, which will provide a dropdown menu. Choose the Email option to send the record for the item or click on Print to print a copy for yourself.

To send multiple records from your search results list, highlight the stars on the left-hand side of the items you are interested in and want to save.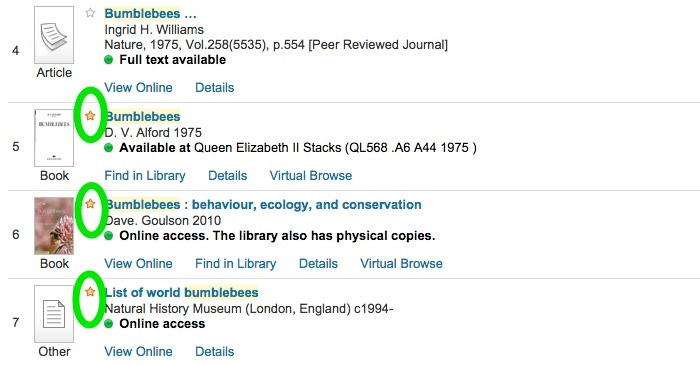 To view your saved items, click on e-shelf at the top of the screen.

Select the items you want to email or print and click on the appropriate button at the top of the list.

How do I request items now?
To request items for Document Delivery, be sure you have signed in to OneSearch. If you are signed in and find something we don't own physically or electronically, the Document Delivery options will be found under the Find in Library link. You will see a few options corresponding to your campus. For example, if you are a student at the Marine INstitute, you would choose the Request from Document Delivery Services.
Please note: Document Delivery is only available to MUN students, faculty and staff.
How do I browse for items?
You can browse by author, title, subject and call number in OneSearch. Simply click on browse search and choose your prefered browsing method from the dropdown list.

You can now use Virtual Browse to look at items near your item on the shelf. It is available for books with a physical copy Available in the Library.