Get what you need from the MRC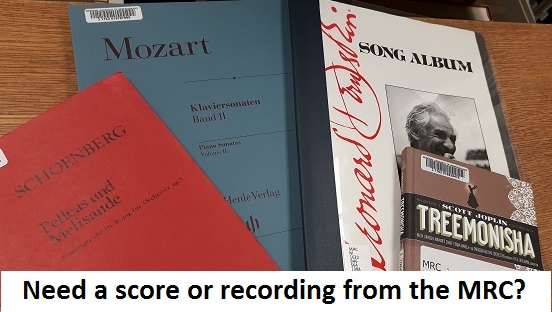 Need a score or recording during the spring or summer outside of the MRC's regular hours? You have options!
1) You can contact the MRC (864-4471 or mrc@mun.ca) to request an appointment for a mutually agreed time.
2) You can request MRC items for pick up at another Memorial Library. Here's how:
Go to www.library.mun.ca and either search for your desired item or click on "Advanced Search"
Once on the next screen, sign in to your account by clicking the "Sign in" link in the upper right corner. When successful your name should now appear in that same upper portion of the screen.

Find the item from the MRC that you wish to borrow. Select the "Find in Library" tab and look for the "Request" link.

Now you can select the library where you would like to pick up your item. During July, items requested for pick up at the MRC will be followed by an email to arrange an appointment for a pick up time. Items requested for pick up at the QEII Library will be delivered there.

Some things to note when placing your request:
1-2 business days may be needed to complete your request.
When wishing to have items available to be picked up on the weekend, please ensure that your request is placed before 10 am on Friday mornings.
You will receive an email to your MUN email account when the item is ready to be picked up.
If you have any questions, please feel free to contact us (864-4471 or mrc@mun.ca).