Memorial authors can publish in select PLOS journals for free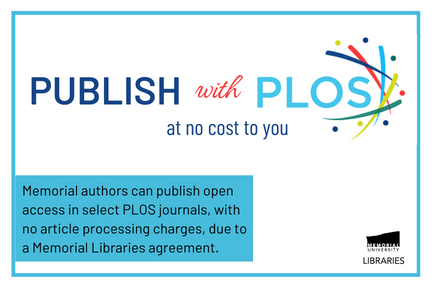 Memorial University scholars are able to publish for free in the following PLOS journals:
PLOS Biology
PLOS Climate
PLOS Complex Systems
PLOS Computational Biology
PLOS Digital Health
PLOS Genetics
PLOS Global Public Health
PLOS Medicine
PLOS Mental Health
PLOS Neglected Tropical Diseases
PLOS ONE
PLOS Pathogens
PLOS Sustainability and Transformation
PLOS Water
This benefit is due to Memorial University Libraries' participation in a license agreement through the Canadian Research Knowledge Network (CRKN). Authors must indicate their institutional affiliation upon submitting their manuscript in order to benefit from open access publishing at no cost. More information on the agreement can be found on the CRKN website.
If you have questions, please contact Dr. Kathryn Rose, Head, Collections Strategies, at kathrynr@mun.ca.