Abbie Table Artist's Talk & Reception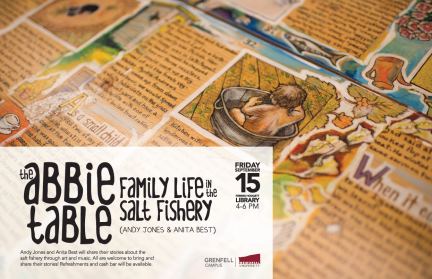 (posted Sept. 11, 2017)
We are excited to be hosting the art installation,

Abbie

Table, a celebration of life in rural Newfoundland a generation ago, by Andy Jones.
The

Abbie

Table is inspired by

Abbie

Whiffen, a grandmother who wrote an essay to tell her granddaughter what life was like in Trinity Bay in the mid-1900s. Mr. Jones and Ms. Whiffen became friends and he used the memoir to create this art piece. The

Abbie

Table Project,
with visual artist Peter Breckon and members of the "Growing Up, Up In Cove" Collective, began in 2011.
The centerpiece of the project is a 10′ X 4′ table inscribed with the personal story of Ms. Whiffen. Narrating the life of a Newfoundland family engaged in the salt fishery from the 1920s to the 1950s, the story has been illuminated by several dozen contributors.
Reception & Artist's Talk

An event to celebrate the

Abbie

Table will take place Friday, Sept. 15 from 4:00-6:00 p.m at the library. Andy Jones and Anita Best will share their stories about the salt fishery through art and music. All are welcome to bring and share their stories.

Refreshments and a cash bar will be available.