Great Grenfell Giller Debate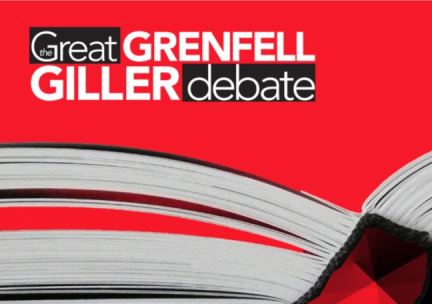 (posted Nov 1, 2017)
Join us on Friday, November 3, from 4:00-6:00pm for our first ever Great Grenfell Giller Debate! Debaters Dr. John Bodner (Social-Cultural Studies), Pamela Gill (Marketing & Communications), Dr. Ken Jacobsen (English), Librarian Louise McGillis, and English student Kendra Morton, will hilariously debate this years Scotiabank Giller Prize short listed books.
The Giller recognizes excellence in Canadian fiction and is the largest cash prize for literature in the country with an annual award of $140,000. The five short listed nominees for 2017 are, Rachel Cusk's Transit, Ed O'Loughlin's Minds of Winter, Michael Redhill's Bellevue Square, Eden Robinson's Son of a Trickster, and Michelle Winters' I am a Truck. The Giller Prize will be announced November 20 live on CBC during a gala hosted by Mary Walsh, and will be livestreamed at CBCBooks.ca. The gala will also air as a broadcast special on CBC Radio One hosted by The Next Chapter's Shelagh Rogers and CBC's q books columnist Jael Richardson.
The audience will decide who the winner of our Great Grenfell Giller Debate is! Light refreshments and a cash bar will be available.