Open Access: How We Can Support Your Research Dissemination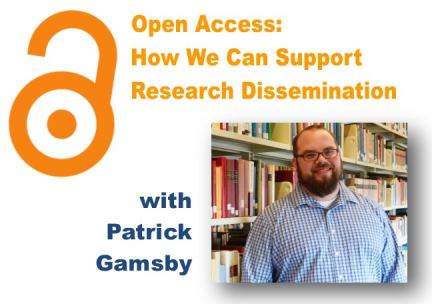 (posted Sept. 12, 2016)
Our new Scholarly Communications Librarian, Patrick Gamsby, will be visiting Grenfell Campus this month!
Prior to this role, Patrick was the Scholarly Communications Librarian and Lecturer in the History of Ideas at Brandeis University in Waltham, Massachusetts. Patrick has an MLIS from the University of Western Ontario and a PhD from Laurentian University.
He will be giving two information sessions:
Thursday, Sept. 22
2:00 to 3:00 pm
AS 378
Friday, Sept. 23
10:00 to 11:00 am
FA 224
These sessions will focus on the often misunderstood topic of Open Access and the place it occupies in the scholarly publishing landscape. Such topics as author rights, peer review, and publishing economics, among others, will be covered. A special emphasis will be placed on the relevant services currently being offered by MUN Libraries.