World War I Gas Mask
Dr. Cluny Macpherson, Principal Medical Officer, 1st Newfoundland Regiment, invented the gas mask during World War I (1914-1918).
Dr. Macpherson first enlisted on 21 September 1914 at the rank of Captain. He served in France, Belgium, Egypt, Salonica, and was eventually transferred to Gallipoli. He became an advisor on poisonous gas, which the Allies feared Germany might be ready to use. While in Gallipoli, he designed the first gas mask, which he fashioned out of a German helmet.
Dr. Macpherson returned to Newfoundland in October 1916, after being injured in Egypt. He was appointed a member of the first War Office Committee on poisonous gases, and also director of medical services for Newfoundland during World War I. He was demobilized on 9 September 1919 at the rank of Lieutenant-Colonel.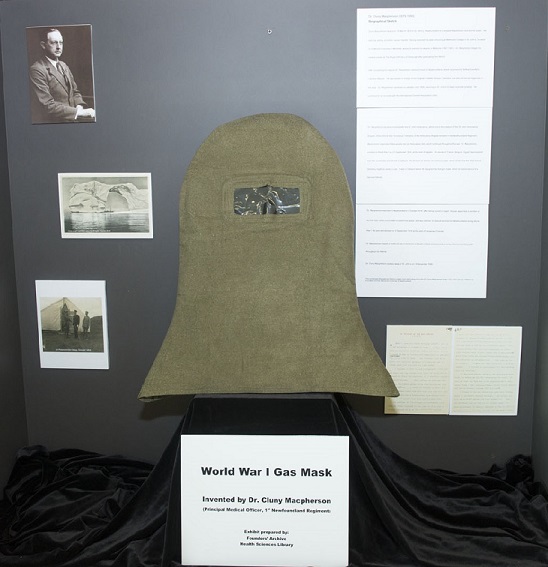 ‌
Gas Mask Display
This display pictured above features an exact replica of the gas mask created by Dr. Macpherson as well as a biographical sketch, excerpts from his notebooks, and photographs of Dr. Macpherson and his time in WWI. The display is located on the second floor of the Medical Education Centre, Faculty of Medicine, at Memorial University.
The display was created and installed by Melissa Glover, Archival Assistant at the Faculty of Medicine Founders' Archive in the Health Sciences Library. The mount for the gas mask was graciously prepared by the conservator at The Rooms Provincial Museum.
Photo credit: Jennifer Armstrong, HSIMS