Academic Integrity
The Memorial University community values and expects the highest standards of academic integrity.
Memorial University of Newfoundland Code
All Members of the Memorial University of Newfoundland Community, which includes students, faculty, and staff, shall treat others with respect and fairness, be responsible and honest, and uphold the highest standards of academic integrity.
- Memorial University of Newfoundland, University Calendar, Section 2.0
Academic Integrity Definition
Academic Integrity is principled, ethical practice within the university and academic environments.
Academic Integrity ranges from minimal fair and honest practice, to the highest values of scholarly, educational and intellectual lfe. In an academic institution, integrity often takes the form of particular codes of behaviour which outline offences and minimum expectations for professional practice (e.g. accepting credit only for your work; properly crediting others for their work; not cheating; etc).
- Dr. Peter Trnka, Memorial University 2015
Students, faculty, and staff here at Memorial are required to know about academic integrity and its importance in pursuing your academic work.

Did you know?
All academic offences are taken seriously, even if it is your first time.


Even if you did not mean to copy someone else's work, it is still considered plagiarism. Always make sure to properly cite your work as you write your assignments and reports.


You are only permitted to bring the items specified by your professor to your test or exam. Unauthorized devices (cellphones, calculators, translators or dictionaries, etc.) are not permitted during tests or exams, even if you are not using them.


Unless your professor has given permission for students to work on individual assignments together, it is not acceptable to work on individual assignments in a group.


You cannot submit any work (including data, tables or charts) as yours if you took the information from another source. All information, regardless of the source, need is to be referenced. Proper citation guidelines are available from the library.


You cannot submit any work (including data, tables or charts) if you have previously submitted it for another assignment.


It is not acceptable to change your answers on a test or assignment after it has already been submitted and graded.


Students at Memorial University are expected to produce their own work. Purchasing someone's work is considered cheating.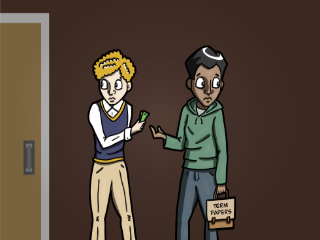 *These examples listed are not the entire scope of potential academic misconduct cases.

What is INTG100A/B?
Integrity 100A/B (Academic Integrity) is an online course designed to help you learn more about academic integrity and the important role it plays at Memorial University. It will include topics relating to:
understanding the meaning of academic integrity and its associated university regulations
how to complete universtiy work with academic integrity
how to avail of supports to ensure academic integrity
Integrity 100A/B is a required non-credit course for full time first year undergraduate students which must be completed in their first year of studies here at Memorial.

More Information
More information on the course can be found on the Academic Advising website. You can also read our article Protecting Integrity.
Information on the Academic Regulations can be found in the Memorial University of Newfoundland, University Calendar:
Undergraduate students (Section 6.12)
Graduate Students (Section 4.12)

Contact
To arrange an academic integrity presentation or for further information, please contact:
Erin Alcock or Wendy Rodgers Co-coordinators, Academic Integrity, QEII Lbrary
phone: 864-7427