Artists' Books Collection
Artists' books announce themselves in extravagant ways. They exist on a continuum between the traditional book (the codex) and book objects that resemble sculptures. There is no general agreement about when artists' books first appeared; depending on who is asked, it was either in the early deca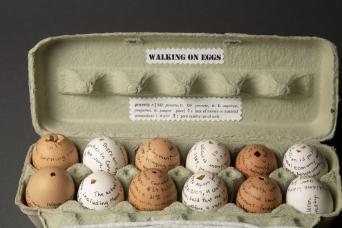 des of the twentieth century or sometime in the 1960s. Nor is there any consensus about what constitutes an artist's book. Artists' books of the last 50 years can be said to encompass both high and low culture, and everything in between, including books that engage with the fine-press movement and are produced in signed and numbered limited editions; books that echo the history of the livre d'artistes and deluxe editions; cheaply produced editions in large print runs; print runs in which each copy is deliberately altered; books that straddle the line between commercial printing and fine-press printing; experimental electronic books and sculptural, one-of-a-kind book objects. It is a genre that has proven highly elusive to definition. So, why not arrive at your own definition of the artist's book by examining some of the almost 200 examples in Memorial University Libraries' Special Collections.
Access to the Collection
The collection may be searched online by using the Memorial University Libraries' Catalogue. Simply perform a keyword search for "artists' books collection", or in advanced search, search for the keyword "ABC" in the call number field. From the left sidebar, select the local collection facet "Artists' Books Collection" to return the holdings in this collection only.
An overview of the collection as well as examples from it may be seen in may be found in The Catalogue is the Exhibit: Artists' Books.
For more information about the collection, please contact librarian Patrick Warner at the QEII's Archives and Special Collections.