The Anne and Kevin Major Collection -- Fine Press / Artists' Books
Works produced by Canada's Locks' Press, England's Circle Press and The U.S.A.'s Janus Press make up the bulk of this collection of 42 fine press/artists' books donated by Anne and Kevin Major. The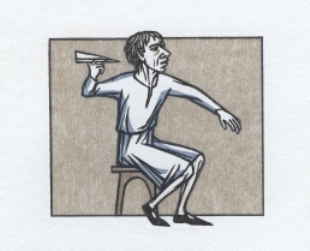 collection also holds a variety of works from other fine presses, including an edition of Aesop's Fables, Elizabethan love songs, as well as contemporary poetry by Michael Crummy, Anne Michaels, Kevin Major and Charles Simic. There are also books designed and made by Newfoundland-based artists Tara Bryan and Anita Singh.
Locks' Press is a private press, owned and operated by Fred and Margaret Lock in Kingston, Ontario. The press was originally established in 1978 in Brisbane, Australia, where the Locks' lived from 1974 to 1987. Since setting up operations in Kingston, Ontario, in 1987, the Locks have printed eleven books, fourteen pamphlets, and twelve broadsides. A Professor of English at Queen's University, Fred Lock has an interest in Latin, medieval and eighteenth-century English texts. He acts as editor and has also provided translations for about a third of the titles. Margaret Lock designs the books and does the typesetting, illustrating in woodcuts, printing and binding. The press ceased book production in 2000, but still produces broadsides. For more information about Locks' Press please see Locks' Press 1979-2000 a bibliography by Margaret Lock (housed with the Anne and Kevin Major Collection). Additional information can be found here.
Circle Press was formed by Ron King in London, England in 1967. King's first printed book was an edition of Chaucer's "Prologue to the Canterbury Tales." Other works produced include texts such as "Macbeth", "King Lear" and "Antony & Cleopatra" and collaborations of modern authors with outstanding artists such as Norman Ackroyd, Tom Phillips, Arthur Boyd, Ian Tyson, John Furnival and Julia Farrer. The steadiest contributors however have been John Christie and Ron King himself on the visual side and the poets Roy Fisher and Kenneth White on the writing side. Circle Press has produced large case-bound books, small pamphlets, poetry posters, pop-up books, wire books, books which are not precisely books but boxes, concertina books, mirror books, stone books and combinations of all these forms. A full introduction to Circle Press can be had by reading Cathy Courtney's The Looking Book: a pocket history of Circle Press 1967-96 (housed with the Anne and Kevin Major Collection). More information can be had by visiting the Circle Press website.
The Janus Press was founded in 1955 in California by Canadian-born Claire Van Vliet, and since 1966 has been based in Vermont. The press mainly publishes contemporary writers in collaboration with papermakers and printmakers. The Janus Press has over 110 publications, many of which are held at research libraries. More information about the press can be found in three catalogues: The Janus Press 1955-1975, The Janus Press 1975-1980 and The Janus Press 1981-1990 (housed with the Anne and Kevin Major Collection).
The Anne and Kevin Major Collection is not yet catalogued. A bibliography of titles held in the collection may be viewed from the Digital Archives Initiative website. The collection is not open for browsing. To see physical copies of items in the collection, or to find out more about the collection, please contact Special Collections Librarian, Patrick Warner, at pwarner@mun.ca.
For information about Kevin Major's archival collection at Memorial University Libraries please see the following finding aid.