Neil V. Rosenberg Collection
The Neil V. Rosenberg Collection consists of periodicals from the private library of Dr. Neil V. Rosenberg, Professor Emeritus of Folklore at Memorial University of Newfoundland. Between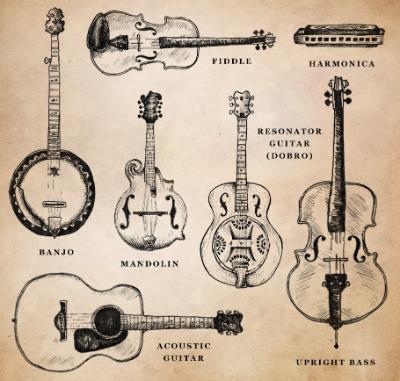 1968 and his retirement in 2004, Dr. Rosenberg specialized in the study of contemporary folk music traditions, investigating the ways in which popular music interacts with local and regional folk music traditions, and examining processes of cultural revival. His books include Bluegrass: A History (1985), the definitive work on that form of music, which was reprinted with a new preface for its 20th anniversary edition in 2005. In 2015 he was inducted into the International Bluegrass Music Hall of Fame. Video footage from the awards ceremony can be viewed here. More about Dr. Rosenberg's research and publications can be found here. Dr. Rosenberg is also a member of the band Crooked Stovepipe.
The Collection focuses largely on bluegrass music periodicals and to a lesser extent on periodicals related to the country music from which bluegrass emerged and folksong revivals that embraced it. The Collection holds complete runs and sample copies from more than 127 titles, the majority of which were published in the United States. The list of U.S. titles includes Bluegrass Unlimited, the oldest and most widely read bluegrass magazine, Muleskinner News, Pickin', Frets, Banjo Newsletter, The Old-Time Herald, Journal of Country Music, Old Time Music, and Sing Out, to name a few. The Collection also holds bluegrass periodicals from many different countries, including Japan (Moonshiner and June Apple), England (Country Music People), Germany (Bluegrass Bühne), France (Le Cri du Coyote), Holland (Country Gazette), the Czech Republic (Bluegrass Special), Italy (Country Store), Australia (Cumberland Country Rag) and Holland (Country Gazette). Finally, the Collection contains a considerable proportion of Canadian bluegrass music publications, including substantial runs of Breakdown, Canadian Bluegrass Review, Bluegrass Canada Magazine, and Bluegrass North, as well as smaller runs or single numbers from other titles. Many of the periodicals from this collection are indexed in these databases.
In July of 2019, Dr. Rosenberg's archival collection was made publicly available. For details please consult the finding aid.
Access to the Collection
A searchable shelf-list of titles held in the Collection is available on the Digital Archives Initiative website. Items from the collections do not circulate. To see physical copies of items in the collection, or to find out more about the collection, please contact Special Collections Librarian, Patrick Warner, at pwarner@mun.ca.
Other folkore resources can be found at Memorial University of Newfoundland Folklore and Language Archive (MUNFLA), "one of the largest archives of recorded sound in Canada, with major holdings in folklore and folklife, oral history and popular culture" (Lovelace, Smith and Widdowson, 2004).