About Us
The Teaching & Learning Commons (TLC) is a place where Education students, instructors and researchers can work collaboratively on projects of current interest. This air-conditioned space, measuring approximately 20 metres by 10 metres, contains numerous areas that are conducive to both group work and individual study.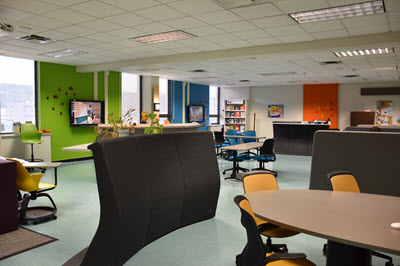 The TLC is not necessarily a quiet space. Rather, it is a space where projects, assignments and presentations can be crafted and perfected. It welcomes users with an atmosphere that is bright, comfortable and well-suited to a variety of activities, including:
exploring technology integration strategies using Web 2.0 tools, tablets, interactive whiteboards and other devices;
designing, developing and practicing group presentations;
preparing multimedia such as video and audio files, as well as interactive objects; and
developing classroom activities.