What to Expect this Semester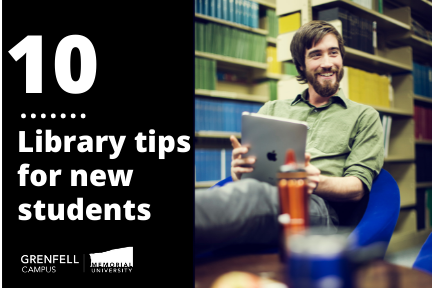 (posted Sept. 3, 2021)
Welcome back! All our branches are open to students, faculty, staff and members of the community. Drop by anytime we're open.
1. Don't forget your mask
Non-medical face masks are mandatory in the library. In designated areas where social distance (2m) can be maintained, masks may be temporarily removed while seated to allow drinks/snacks (as long as you follow our Food & Drink Policy). In all other areas they must be worn at all times.
2. Your MUN ID is your library card!
Use it to borrow books and other materials like board games, phone chargers, calculators, and more. You can get your MUN ID card at the library anytime we are open.
3. Connect to Wi-fi
There is campus wide free wi-fi. Chose network "Grenfell Wi-fi" and the password is Grenfell-1975.
4. Access the library from anywhere
You have off-campus access to subscription library resources like streaming video, e-books, e-journals, and searchable databases. Log in using your MUN Login username and password.
5. Renew your books online
Books may be renewed online unless someone else has placed a hold on them. Log in to OneSearch with MUN Login username and password.
6. Find "e-reserves" for your courses

Your Instructors can place required readings and other course resources in our online "e-reserves" system. You can access e-reserves from the library homepage and sign in with your MUN login. Find lists of materials by course name or your Instructor's name.
7. Enjoy the silence

The third floor is our designated "silent" floor, where there are individual study spaces as well as computers available. Shhh! There's no talking on our silent floor.
8. Book a group study room
Four group study rooms are available, two on the second floor and two on the third floor. Group study rooms are for groups of 3-6 students and have white boards and LCD screens. Free white board markers and HDMI or VGA cables for the LCD screens can be borrowed at the Circulation Desk. You can book a group study room online.
9. Get items your library doesn't own
Intercampus Loan is a free service that you can use to request to borrow items from libraries on the St. John's Campus. Document Delivery is a free service that allows you to request items that Memorial libraries do not own. Librarians and staff will check with other libraries and try to borrow the item(s) for you.
10. We're here to help. Ask us!

If you need help finding books and articles for your assignments, need help citing your sources in APA, MLA, or other styles, or have any questions about the library, try our online chat, email, phone us (637-6236) or visit us in person. Ask any library staff member.