The Herbert Halpert Collection -- Folklore
The Herbert Halpert Folklore Collection comprises the private library of Dr. Herbert Halpert, the founder of Memorial University of Newfoundland's Folklore Department. The collection, compiled over many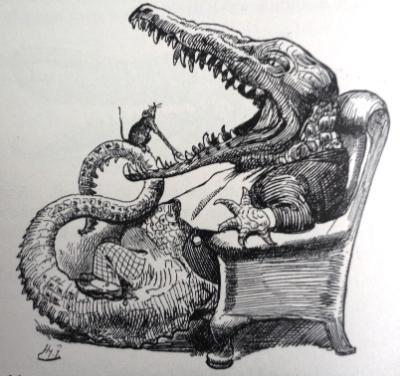 years by Dr Halpert and his wife, Violetta Maloney Halpert, and considered by folklorists to be "one of the finest personal folklore libraries in the world," (Lovelace, Smith and Widdowson, 2004) is now housed in Memorial University's Queen Elizabeth II Library. Containing over 13,000 monographs and journal titles, the collection touches on almost every area of the discipline. It reflects Dr. Halpert's wide-ranging research and intellectual interests from his start collecting children's rhymes in New York City during the Great Depression to his ground breaking folklore research in Newfoundland during the 1960s, 1970s and beyond.
The collection is strong in the areas of folksong and folk narrative, containing numerous volumes of folktales, legends, fables, and ghost stories. There are subject concentrations in wit and humour, animal lore, and child lore including rhymes, games, language, child life, songs and play. The collection also reflects Dr. Halpert's passionate interest in language. In the words of his colleagues, "he was a major contributor to scholarship across the full range of traditional linguistic genres: proverbs, Wellerisms, dites, blason populaire, placenames, rhymes and riddles" (Lovelace, Smith and Widdowson, 2004). Geographically, the collection focuses on areas in which Dr. Halpert conducted his primary research: the Eastern, Midwest and Southern United States, and Newfoundland. The collection also holds a wealth of folklore material concerning the ancestral cultures of New World populations, including those from Ireland, England, Scotland, Wales, the Isle of Man and Africa. The collection also holds many titles relating to Native American societies, as well as works of folklore and anthropology from many other geographic locations, including Southeast Asia and the Pacific islands, West Indies/the Caribbean, Australia, Mexico, the Middle East and Asia. Taken as a whole, the Herbert Halpert Folklore Collection has strong interdisciplinary appeal.
The collection comprises mostly published material from the twentieth century, though there are also works from the nineteenth century. The majority of the collection is English Language, though there are titles in Irish Gaelic, German, French, Danish and Norwegian. The Herbert Halpert Folklore Collection is also notable for its annotations and bookmarks. In the words of Neil V. Rosenberg, Dr. Halpert's books "are filled with pencilled notes, underlined passages and bookmarks noting significant versions of tales, customs and beliefs. Indeed, much of Halpert's writing may be seen as an outgrowth of this kind of activity....In recent years his annotations have taken the form of articles, but during the '40s and '50s they were more often lengthy notes, published in Hoosier Folklore Bulletin [founded by Halpert], Western Folklore, the Journal of American Folklore and other American folklore quarterlies" (Rosenberg, 1980). Staff members of the Queen Elizabeth II Library have taken great care to not only preserve Halpert's organization of his library, but also to preserve the bookmarks and annotations in a way that will make them accessible to future generations of scholars and students. In 2017, Memorial University student Steve Kiraly completed an M.A. thesis on the subject of marginalia in the Halpert Collection: Writing in the Margins: An Exploration of the Dr. Herbert Halpert Folklore Collection at Memorial University of Newfoundland.
The Herbert Halpert Folklore Collection is a major addition to the general folklore holdings of the Queen II Elizabeth Library, which already consisted of over 30,000 monographs, with more than 200 journals directly focused on folklore/life and another 500 - 600 journals with relevant material.
Access to the Collection
The Herbert Halpert Folklore Collection may be searched online by using the Memorial University of Newfoundland Libraries' Catalogue. To find items in this collection, enter your search term(s), and, when the results appear, limit by Local Collection > Herbert Halpert Collection. Or, enter HALP in the Call Number field.
To see physical copies of items in the collection, or to find out more about the collection, please contact Special Collections Librarian, Patrick Warner, at pwarner@mun.ca.
Memorial University of Newfoundland Folklore and Language Archive (MUNFLA)
As well as being grounded in the literature of his profession, Dr. Herbert Halpert's career was grounded from the outset in fieldwork. In 1968, he founded the Memorial University of Newfoundland Folklore and Language Archive (MUNFLA), which has developed into one of the largest archives of recorded sound in Canada, with major holdings in folklore and folklife, oral history and popular culture (Lovelace, Smith and Widdowson, 2004).
Works Cited
Folklore, an emerging discipline: selected essays of Herbert Halpert / edited by Martin Lovelace, Paul Smith, J.D.A. Widdowson. St. John's, Newfoundland: Dept. of Folklore, Memorial University of Newfoundland, 2002.
Rosenberg, Neil. "Herbert Halpert: A Biographical Sketch". In: Folklore Studies in Honour of Herbert Halpert. Kenneth Goldstein and Neil V. Rosenberg, (eds.) St. John's, Nfld., Memorial University of Newfoundland, 1980.