Group Study Rooms
‌Group ‌Study Rooms
Four group study rooms are available, two on the second floor and two on the third floor. Group study rooms are normally reserved for groups of 3-6 current students. They may not be booked for use by faculty, staff, alumni or guest users, and may not be used for faculty or staff meetings, classes, or exams.
Blue Room (LC 210): Second Floor. Has white boards
Yellow Room (LC 211): Second Floor. Has a white board and a chalk board
Orange Room (LC 310): Third floor. Has an LCD screen and a white board
Green Room (LC 311): Third floor. Has an LCD screen and a chalk board
Please ask for chalk, white board markers and HDMI or VGA cables for the LCD screens at the Circulation Desk.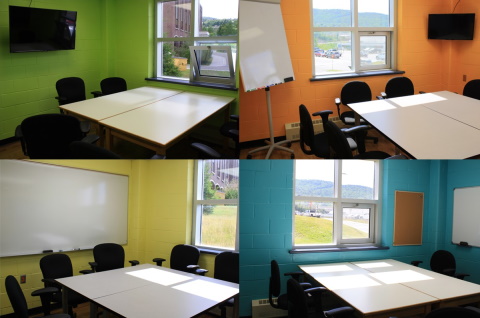 Online Bookings
Group study rooms can be booked online up to three days in advance for 30 minutes to 2 hours per day. Groups must arrive within the first 15 minutes of their booking or the booking may be subject to cancellation. There is no charge for use of the group study rooms.